Functional Composite Materials was pleased to sponsor three poster prizes at the 20th European Conference on Composite Materials (ECCM20) held at EPFL in Lausanne, Switzerland, from 26-30 June 2022.
Three prizes were awarded by the conference chairs, each of which received a cash prize.
The winners were:
First place
Non-Isocyanate Polyurethanes based composites: a new route to sustainable fully biobased structural composites
Guillem Seychal, Connie Ocando, Nora Aranburu, Bruno Grignard, Leila Bonnaud, Haritz Sardon, Christophe Detrembleur, Jean-Marie Raquez
University of Mons, Belgium, and University of the Basque Country, Spain
Second place
Uncertainty quantification of the dynamic fracture toughness of particulate polymer composites using a surrogate based methodology
Aanchna Sharma, Tanmoy Mukhopadhya
Kushvaha Vinod, IIT Jammu, India
Third place
The use of Digital Image Correlation (DIC) in full scale torsional testing of wind turbine blades
David Langston, Peter Greaves, Ole Thomsen, Terence Macquar
University of Bristol, UK
Congratulations to all the winners!
All attendees of the conference have the opportunity to publish their research in a special collection of the journal. More details here.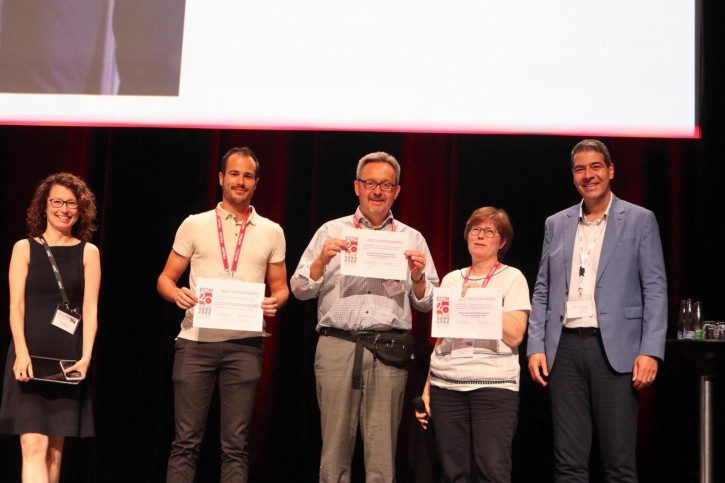 From left to right: Soraia Pimenta (member of the ECCM20 scientific committee); Guillem Seychal (first-place winner); Ole Thomsen (third-place winner); Véronique Michaud (co-chair of ECCM20, accepting the prize on behalf of the second-place winners); Anastasios Vassilopoulos (co-chair of ECCM20)